Hi Friends! If this were a postcard, it would say "Greetings from
Paradise
!"
If we are friends, dear reader, you know that Atlantic Beach is my version of paradise. My family has been coming to Mema's beach cottage since I don't know when; at least thirty years before I was born, and every summer since. This little cottage has seen more than its share of hurricanes, loose shingles, and water damage, and thanks to Mema, who has grudgingly and faithfully written checks for the frequent repairs, she still stands, like a beacon that calls us back home. With my Dad being in the newspaper business, we moved around quite a bit when I was a girl, about every five or six years. I did not mind because it was all that my brother and I knew, but when that happens, you learn not to get too attached to any particular home or town. They say that home is where the heart is, and if that is the case, then my home is surely the beach house. It is where my love affair with the South began and where I hope it ends.
God forbid, I should meet an early demise, (the poor girls would have such bad hair) do me a favor and remind Hubby that I do not want to be laid out like a stuffed turkey for all to admire one last time. No siree! Just drop me off at the crematorium and take my ashes to
Shackleford
Banks
, on the
Crystal
Coast
. Take a walk around the tiny island until you find the wild horses who have lived there since Spanish ships wrecked off the coast in the 1600's and they swam to shore. It is a majestic thing to stand in their presence, like being with Spanish royalty. Then, take a stroll back to the sound, where the water is as calm as a bath and as the sun sets, dump me in, real quick like, so you don't get caught (awkward!). That is ceremony enough for me.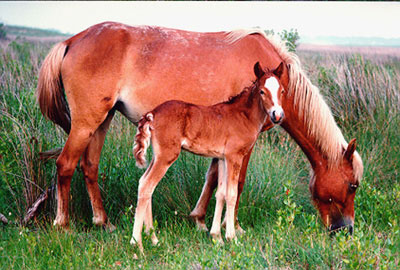 Baby "Prince" of Shackleford with his Mama
I'm sorry but that just needed to be said. If it were up to Hubby, I'd be laid out for a three day (yes, I'm serious) Macedonian sob fest. I know that he is just terrified that he'll end up in the ocean somewhere! Don't worry babe…I'll make sure you go out Macedonian style, but I am not wearing black for a year.
So what do I love most about the place that holds my heart? These days, I love revisiting the old beach traditions with my little girls.
Savannah
is the daughter who has been cut out of the same cloth as me. Just the other day, my little girl with an old soul joined my mother and me for an expedition to downtown Beaufort. Beaufort was recently voted the coolest small town in
America
! Lemme just say that I loved Beaufort before it was cool. Last year, one of Blackbeard's ships, the Queen Anne's Revenge, was discovered off the
Crystal
Coast
(which boasts more ship wrecks that any other part of the
United States
) and some of the pirate's knickknacks were exhibited at the N.C. Maritime museum in Beaufort. This sparked a pirate obsession with Lilah and
Savannah
, who LOVED the ridiculously overpriced pirate show presented by a motley crew of local "actors" (I use this term very loosely), one of which had a great rack that she was NOT afraid to show off. The aging, alcoholic grandpa in the back row was a huge fan off her "treasure chest". That's all I'm saying about that!
This year, we girls hit the town for the Beaufort Historical Society Old Homes and Gardens tour. Let's talk about just how nerdy I am…I have done this tour too many times to count, along with ghost tours (very cool!), pirate tours, treasure hunts (in 100 degree weather), and carriage rides. It just never gets old!
Some of the interesting folks that may or may not still hang around Beaufort are the Confederate spy, Emeline Pigott, who regularly smuggled enough knives, boots, and guns to fill up a large suitcase in her petticoats for the boys in grey. Or the genteel Southern housewife, who killed invading Union soldiers and decided to bury them in her backyard (sensible!) You don't mess with a Southern lady's china or pearls! If you are in the mood to hear about some of the more eccentric characters of Beaufort's history, you can visit The Old Burying Ground
, which boasts being one of oldest cemeteries in
North Carolina
. You will see a child's tombstone, covered in toys, which are left lovingly for the little girl who was buried in a barrel of rum. She was the daughter of a couple who immigrated to Beaufort from London in the 1700's. She begged her father take her with him on a voyage to London so that she could see her homeland, and she died of fever on the trip back home. The father, having promised to bring her home to her mother, preserved her body the only way he knew how…in a barrel of rum and that is how she was buried.
My youngest, Lilah, is not old enough to appreciate the history of Beaufort or the
Crystal
Coast
, but she does love to visit the Aquarium, which is one of the largest in the state. Lulu loves the beach for all of the reasons that my cousins and I did as children. She loves the perfectly still, warm water in the sound at
Shackleford
Banks
, where she and her little floaties can swim with confidence. She loves the beautiful shells that you can collect on the
island
's shore. She loves digging in the sand until her bathing suit looks like a loaded diaper and she is caked with sand up to her eyes. And after a long day of swimming and digging, she loves to indulge in a piece of fudge from the The Fudge Factory or some rock candy from The General Store. Alright, that last part might be me.
Everyone should have a perfect place that holds their heart like no other. If you haven't found yours yet…it's time for a road trip! Pack up the kids (or the dogs) and some comfy clothes and drive until you feel like a crazy person…mumbling to yourself about how you are never doing this shit again. Then, fall in love with someplace new. It doesn't have to be luxurious. You just have to do it with someone you love. My paradise is the salty ocean air, a marathon of trashy paperbacks from the used book store, fried seafood that inevitably gives me the runs, and the smell of my children's sun kissed skin. What is yours??